News
Details

Hits: 630
QRTS WARWICK ROUND 2 REPORT
1-2 July 2017
The Hamilton Wheelers Elite team travelled to Warwick last weekend for round 2 of the QRTS.

Mark Creaby replaced Lochie Sinclair for round 2 and joined the rest of the team:
Michael Bettany, Nino Calabro, Ian Johnston , Murray McClymont and Dan Wilson to stay at Scotts College in the style of a true tour team and yeah they all agreed it was BLOODY cold!! Even mechanic Bill Tape felt the balmy air!!

Saturday saw the 6km Prologue in the morning followed by the 1 hour crit in the afternoon. Creabs got the boys off to a solid start in the Prologue and all our riders finished within 20 seconds of each other but 40 seconds off the leaders. Nino (F/T or fastest time in the team) Calabro was the star and after finishing in the bunch in the crit became the new holder of the Masters jersey.

The Crit was a brutal exercise of attrition for 40 minutes with approximately half the field withdrawn by the commissaires. With a start list of 96 riders on a 1.4km rectangular course, it was hot from the get go with Jordan Kerby (Pedallars) showed the class of a World Champion in riding away with a great win. Pickles, F/T, Ian Johnston and Dan Wilson finished in the pack 50 secs down.

It was a really solid day out for the team placing 8th on GC out of the 16 teams starting.

Creabs # 66 looking for a pen before the crit: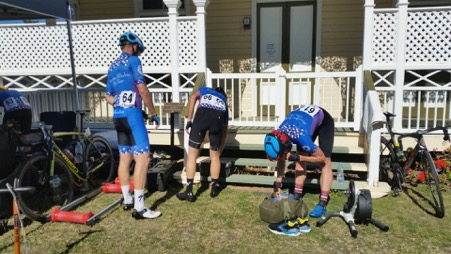 With the breakfast temperature at – 1C!! the team headed out to Yangan for the start of the of the 121 km Road race. An undulating 3 lap course awaited, with our boys planning to keep F/T in the Masters Leaders jersey by the end of the day.

The day featured a series of attacks and counter attacks with the Hamilton Team staying together until almost the end of Lap 2 when Dan Wilson went with a group to chase down the break at 2.00 mins down the road. The peleton slowly disintegrated on Lap 3 with the lead group of 20 + riders finishing within a minute of the winner. Dan finished 18th 36 seconds down with Pickles, F/T, and Muz finishing within 5 mins of the winner.

So Hamilton finished 8th on GC 10 mins 42 secs down. Ashleigh Elliott riding for Galibier finished 3rd in the crit and 9th in the RR to become 3rd placed on GC going into Rd 3, well done Ash. Other Hamilton Riders – Mitch Neumann and Elliot Schultz performed well for their teams though Mitch was ill by Sunday afternoon.

Our boys did really well in a high quality series of races with the RR the highlight. Unfortunately F/T could not hold the Masters Leaders jersey, but the next round in September in Gympie will give him another chance.