2017 Nicol Jackson Women's Series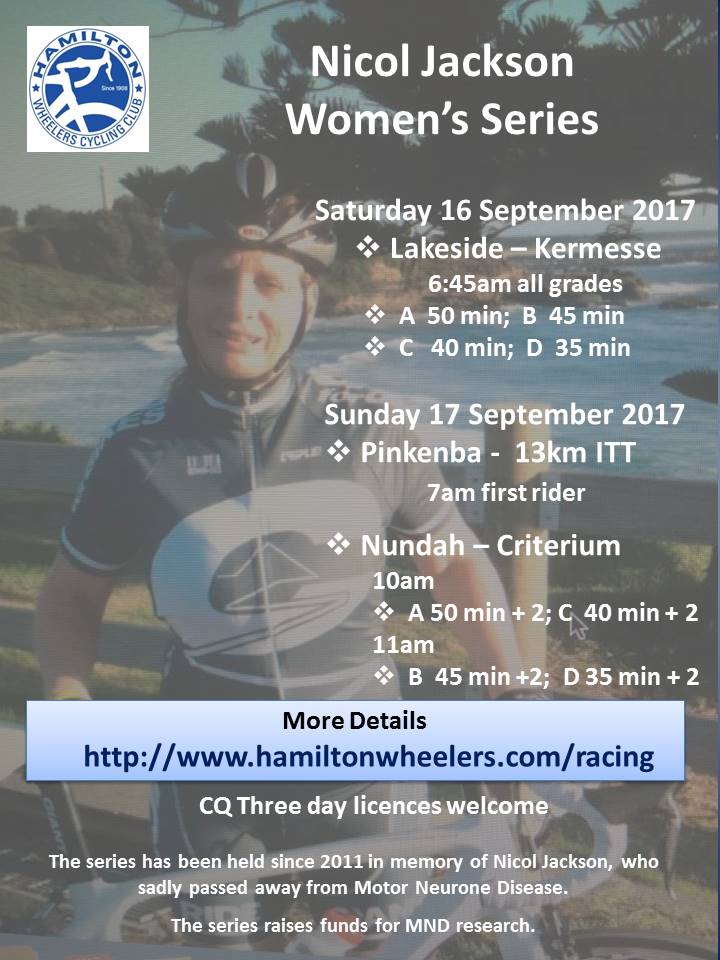 This year the format is a weekend mini-tour, consisting of a kermesse (circuit race) around the undulating Lakeside raceway at Kurwongbah on Saturday morning, and then on Sunday morning a time trial at Pinkenba, followed with a criterium at Albert Bishop park at Nundah.

There are four different grades - A,B,C & D and there are prizes for each event, as well as an overall series winner prize for each grade.

To enter simply turn up and pay your entry fee on the day. You can do any or all events.

Who is it for?
Everyone from someone who has never raced before to seasoned racers! This event is perfect for those wishing to get a taste of competitive cycling with 3 different style races and a relaxed and friendly atmosphere.

Licences:
To race you need a Cycling Australia licence, but you can purchase a temporary 3 event licence for $51.20 from Cycling Australia which you can use for this event, plus another two events. This is an introductory offer for people who would like to try racing without having to purchase a 12 month licence. If you decide the purchase a 2018 licence the $51.20 is deducted. Click HERE to purchase a 3 event licence, which must be purchased online, they can no longer be purchased on the day.

Entry fees:
$10 for each event, plus riders at Lakeside also must pay a $10 track usage fee to the circuit managers
Total Series Entry: $40
The overall series winner is the rider with the most points after the criterium.

Race times/distances
Stage One Lakeside Kermesse (slightly longer times than on the flyer) - all grades have one prime
Course Map
A Grade 60 minutes +1 lap
B Grade 50 minutes + 1 lap
C Grade 45 minutes + 1 lap
D Grade 40 minutes + 1 lap

Stage Two Pinkenba Individual Time Trial
Course map
All grades 1 lap - 13km

Stage Three Nundah Criterium - all grades have one prime
Course Map
A Grade 50 minutes + 2 lap
B Grade 45 minutes + 2 lap
C Grade 35 minutes + 2 lap
D Grade 30 minutes + 2 lap

Points
Points are awarded to the first four finishers of each stage, two points for the winners of a prime, and one point for finishing a stage outside of the first four.
1st place 6 points
2nd place 4 points
3rd place 3 points
4th place 2 points
Prime 2 points
Finish stage outside of first 4 1 point

In the event of a tie, the winner or position will be awarded to the rider with the faster time trial.


Gradings
Riders with a CQ open grading will race as per that grade. Other riders as per Hamilton Gradings. Riders wishing to be graded beforehand (recommended) can click this link and submit a grading application, or turn up early for stage one. To encourage new riders, Womens D will be only for riders new to racing or as per their existing gradings. Riders who have raced before are likely to be placed in Womens C or above. All gradings are at the discretion of Hamilton Wheelers - please be honest in your appraisal of ability.