News
Details

Hits: 147
Winning at the Nundah Criterium Circuit - by Fless
Details

Hits: 332
Presentation Night - Sat Oct 26th at the Clubhouse
The Annual Presentation Night is to be held at the Clubhouse this year, on Sat 26th Oct.

Click HERE to register and

purchase your tickets by Friday 18th october.

RSVP Now! We need to know if you are coming!



Time – 7.00pm for 7.30 pm start
Venue – Clubhouse
Date – Saturday 26th October
Cost – Members and their children $10 Non Members $25 (so Club subsidy is $15 for members)
Meal – Roast Chicken, Roast Beef, rolls, 4 salads, dessert buffet
Drinks – Beer & Wine $3; Softies, tea, coffee free
Live Music - Presentation of awards to our category winners and club champions


Live music, presentations to all medal winners, club champions and major trophy winners – who will they be????


Please bring your own chair.

We look forward to seeing all our friends on this highlight night of the year.

Here are the list of award recipients (so far!)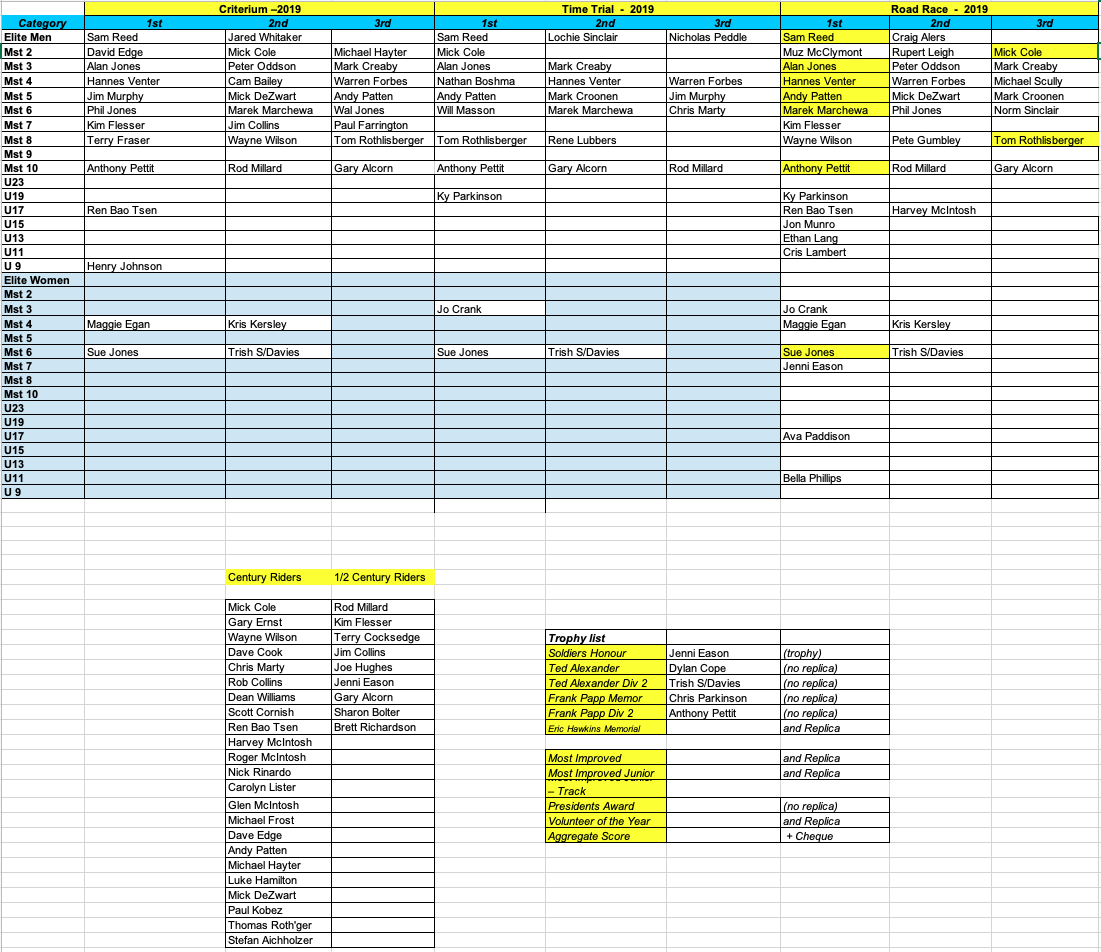 Details

Hits: 2225
Twilight Series 2019/2020

The annual Hamilton Twilight Criterium Series is on again! There are six races over summer on a Wednesday afternoon. As there is not enough light to run all of our usual grades, we only run four senior grades.

A Grade (for riders already graded as A with Hamilton)
B1 Grade (for riders already graded as B1 with Hamilton)
B2 Grade (for riders already graded as B2 with Hamilton, or any male riders under 50 years only graded as C1)
C Grade (for male riders already graded as C1 and who are 50 years or older, any riders already graded as C2 with Hamilton, and any female riders graded as C1 or C2)
All juniors U17 and younger must race in the Junior Races only
To be sure check your grading on the Twilight Grading List - if you haven't raced with us for a while you may need to re-apply

If you have changed clubs or membership number please advise the handicappers - this is not an automatic process.




Here is a highlights package from Round 1 courtesy of Kim Flesser. ( Please note that special permission was given to use an onboard camera, we don't permit cameras otherwise)



As these races are short and fast, and attract large fields of riders, they are not suitable for novice racers. For this safety reason, riders new to racing and on Starter Pack licences are not eligible for entry.

Wet Weather Policy:

Our policy is that a call to cancel or modify the race schedule will only be made

at the track by the chief commissaire

. Should there be a cancellation every effort will be made to notify via the front page of this website, facebook page & group by 4:30pm.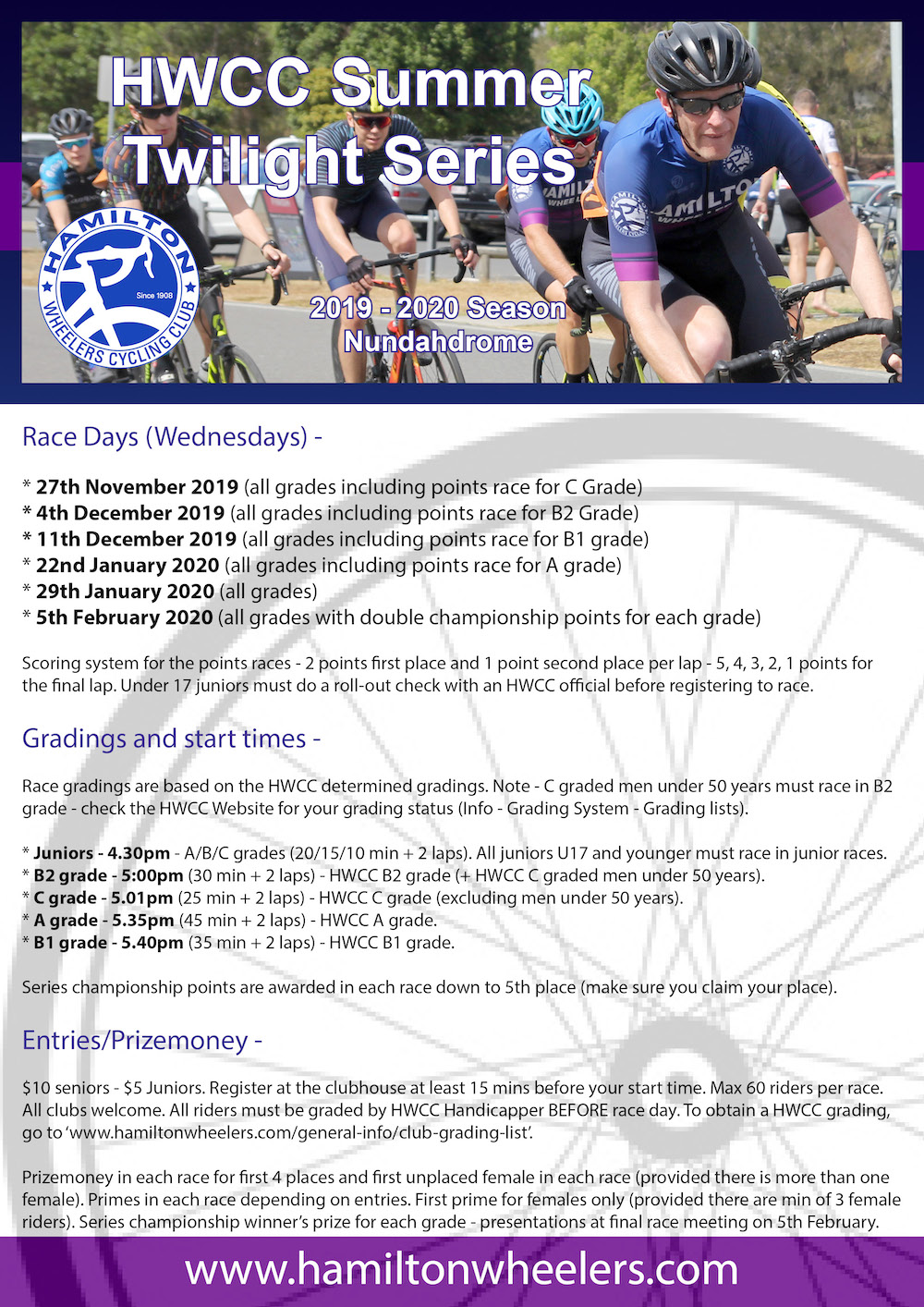 Details

Hits: 295
Hat Trick of National Road Race Titles for Phil Kesby

The Cycling Australia Masters National Road Championships were held in McLaren Vale, South Australia on 3rd, 4th, 5th and 6th October.

The Race Director had set a challenging 19km loop for the road race, and included the brutal 2.6km climb of Penny's Hill, with an average gradient of 7.5% and sections up to 12%. It is located on the range just north of the famous Old Willunga Hill.

A cloudy day and 20km per hour block headwind on the Penny's Hill section was bound to play a significant part in the day's results.

The Masters 6 Road Race was three loops of the 19km course, 56km and 1,065 metres of climbing. A triangular course layout with a punchy Range Road section followed by a super-fast downhill and then a false flat to Penny's Hill ensured a very tough race where fitness, strength and tactics would all be crucial.

Phil said, "As National Champion for the past two years, my coach warned me that I would be a marked man," and so it was. Attacks started almost from the gun with Brisbane rider Adrian Land, winner of Brisbane Granfondo, going up the road. Teams from Carnegie Caulfield and Norwood continued the attacks, and after the second climb, a lead group of eight competed for the title on the final climb. "A solid pace on the climb and constant attacks meant holding the nerve until the right moment and, with one kilometre to go, I made my move on the final 11% pinch."

Phil joined the Hamilton Wheelers in 2015, which is also the first year he ever raced. We covered his previous two wins and the compliments he received last year from a fellow competitor about his sportsmanship. It's an excellent reminder to all of us that you can achieve whatever you want if you put your mind to it. "National Champion three years in a row leaves me happy and proud. I am grateful to my team and for a life that allows me to cycle around the world, meeting amazing people. They all inspire me."

Congratulations Phil, bring on 2020!


Details

Hits: 260
QRTS Round 4 Report
Race report from DS Phil Jones:

Round 4 at Murarrie was the final event for 2019.
The first race of the day a 25 minute +2 laps points race with points every 2 laps,5 3 2 1 points on the line. Then the big race 1 hour + 2 laps. The Hamilton Team had a great first race with a good win by Zach Larson supported by Hanes Venter, Mitch Yard, Peter Odsson, Dave Wadesworth and Ky Parkinson. Zach got in a small break at half distance and took 1st place in the sprint that gave him 5pts that group got caught back and few more moves went and came back, With 3 laps to go The Hamilton riders forced a small gap on the field with Hannes and young Mitch Yarde, this being his first Elite race, setting up a good gap for Zach to hold on for first over the line and taking the double points at the end that gave us our first win.

The main race of the day was a bit mixed for Hamilton we missed the main break of the day and 4 of the team finished in the main pack.

Thanks to all the riders and helpers especially mechanic Bill Tape for all their help!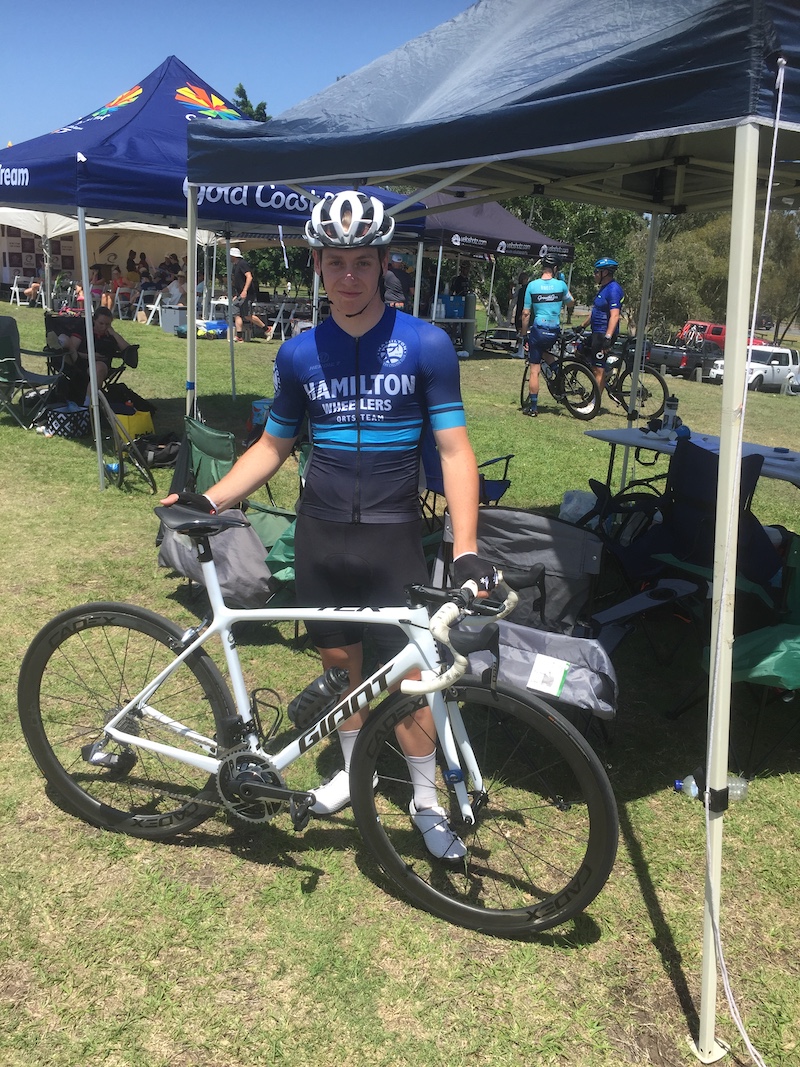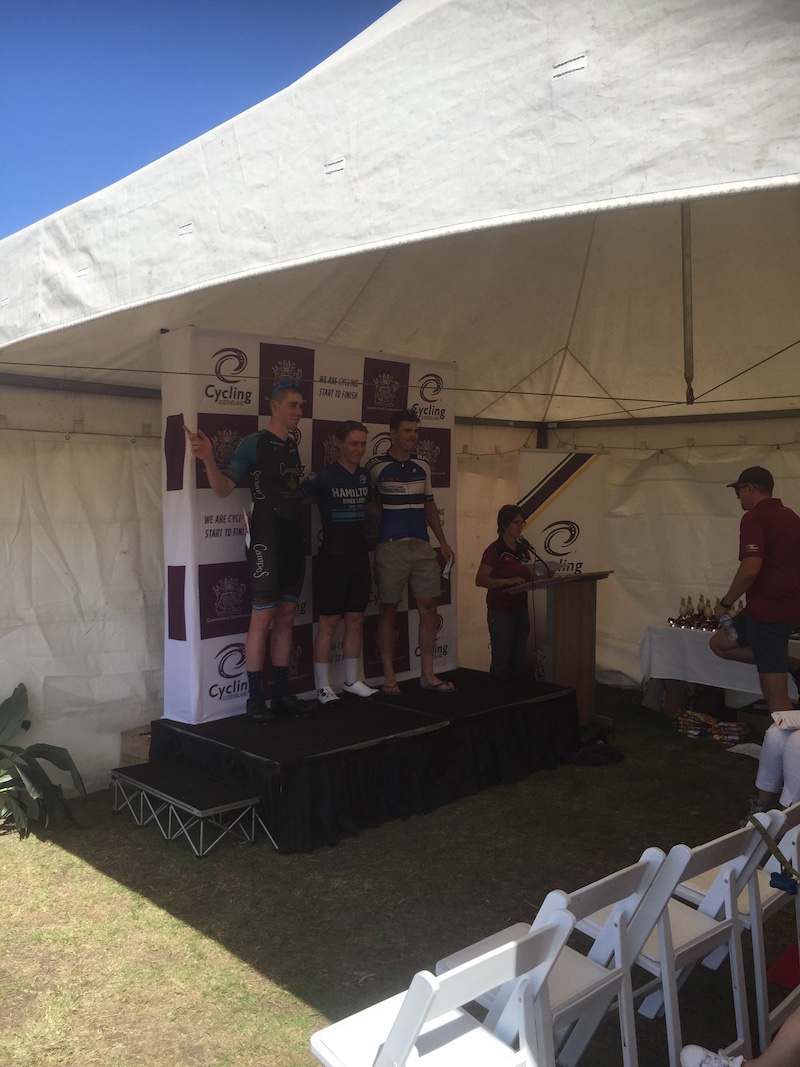 Details

Hits: 132
QRTS Round 3 Report




Stages 1 & 2

QRTS Round 3 Warwick report from DS Phil Jones:
Day 1 done and dusted a hard fought Crit. To start the day off at Leslie Park in Warwick Town Centre we welcomed back Max Neumann to the team from his Triathlon Trip to Europe he was our bed placed rider 30th and stayed at the head of affairs throughout the race and fine ride by Sam Reed 35th, Peter Oddson 49th, Dave Wadsworth 56th and Mitch Neumann 59th.
On to The TTT.
Stage 2 34 Kms on a one loop circuit very fast outward leg with the team sitting on 70ks an hour at one point the a return up hill leg with a severe head wind took it toll on the team losing Mitch with 12Kms to go the 4 remaining riders rode hard to record a time of 49.29 to finish 10th place.




Stage 3
This stage was based out at Yangan 118 kms of undulating exposed open and windy terrain the race split into 3 distinct groups inside the first 25kms, Max Neumann having his first ride for the Team in 2019 got in the first significant break of the day after 27kms and stayed in the front group all day and got into a few small break away moves but got pulled back he eventually ended up in the final selection of the day consisting of 11 riders and finished 9th in the finish, the stage was won by Jordon Kerby riding for Cobra9 and a Hamilton Wheelers member.
The 4 other team members did not finish but gave it their best effort in the heat and wind of the day only 29 riders finished the day and 37 DNF.
Overall it was a mixed weekend for the team our Series Teams Points are 93 and 9th Overall with one round to go at Muzz on the 27th October come along and give the Team your support.

Thanks again to the Hamilton Wheelers on behalf of the Team for your support.

Phil Jones Team Manager