Getting started
Getting Started Guide
STEP 1. Get a Licence
Getting started in competitive cycling is easy. To race you need to be a member of a Queensland cycling club and also have a AusCycling race licence.

You can join a club and obtain a licence online through through the AusCycling Membership system (you can also click on the image below). There are various membership options to suit what sort of riding you are into, but if you'd like to race you will need a Race-All Discipline licence which now let's your race in Road, Track, BMX, MTB and Cyclocross.

Costs vary depending on age, and you can elect to pay for 12 months, or month-by-month.




If you are not sure about racing and just want to give it a go you can get a Free 4 Week Trial membership which is a great offer. This offer is only open to riders who have not held a racing licence in the last 3 years. It offers the opportunity for people to try out racing (club races only) for 4 weeks from the date of purchase. During this period, you can race with any club that supports this product (as many times as you like) noting normal race participation fees apply. Note that a Free Membership Trial is not a membership with any club (Hamilton or otherwise) so you are not eligible for Club only events (such as interclub or club championship races).
STEP 2. Get a Grading
The next step before you race is to contact the club so you can be placed in the most appropriate grade. We race in different grades from A grade through to F grade, plus racing for Juniors (kids) with ages ranging from 7 through 90 so there is sure to be a race that will suit you.
Once you have licence complete this online grading application form. Our handicappers will endeavour to place you in the correct grade based on your experience ability and fitness. This is both for safety and to ensure a level field for races. New riders start out in the lower grades and then earn points towards a move to a higher grade. You must accumulate 10 points in a 6 month period to move up a grade. Conversely, if you keep getting dropped from the bunch, you may be able to drop a grade. The aim is to race in a grade in which you are competitive in, regardless of age or gender, not just making up the numbers. We ask all new riders to request to be graded by thursday 8pm before race day - this allows time for us to get it right.

---
Volunteering
A condition of membership is that all members help out by volunteering once a year. All our officials are all volunteers and without volunteers there is no racing! After completing your first two races of the season you will be asked to nominate a date when you can help out. When you complete your rostered club volunteer duty you will receive a $10 free race voucher.

Why join our Club?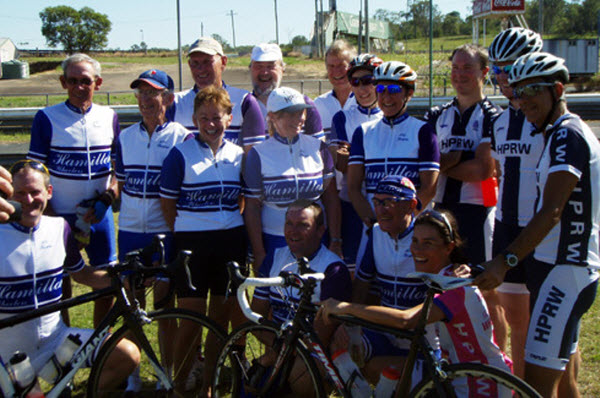 If you are going to join a Club and get a Licence - why not become a member of Hamilton Wheelers? We have the largest range of racing events on both open roads and closed courses of any Brisbane cycling club. We are the second oldest club in Queensland, forming in 1908 and our members ages range from 6 to 83. We are a friendly bunch, with an emphasis on fun.

In recent years we have greatly increased our effort to support Women's and Junior racing with a Women's series and regular Women's only handicap events, as well as a rapidly growing Juniors Racing Program. So, by joining our ranks you will be helping Hamilton Wheelers to continue to set the standard in Queensland.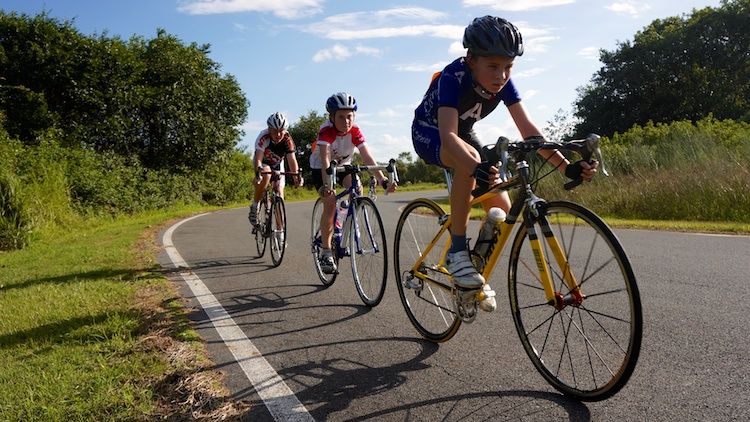 Also, if you do not wish to be a competitor but would like to be involved, you could become an active member of the club as an Official in one of the many positions in the club. Should you wish to attain Commissaire status we will also support you to achieve that goal as well.

To join Hamilton Wheelers click the Membership options above or contact our Secretary Matthew Smart for more info.
---
Your first race!
Once you have a full or temporary licence and you have been graded you are all set to enter a race.

If you are new to cycle racing, it may seem a bit daunting, but we will introduce you to some of the competitors in your race, and 'buddy' you up with an experienced rider to help you out and give you a few tips to make it a safe and enjoyable experience. We have a wide range of races throughout the season, but most races are split into different grades from A grade through to E grade based on ability, with both men and women combined. Junior riders compete in their own seperate races until from 15 and up they move into racing with adults as their skills and performance reach the right level.

Club member Rob Oshlack's has provided some great safety tips in this Rider's Safety Briefing.

While every precaution is taken to ensure rider's safety including marshalls and first aid staff, Cycle racing does have some inherent dangers, so please read this before racing.
How to Enter
Entry for all our events is online. Visit our website calendar to choose an event. Online entry and payment is via www.EntryBoss.com - you will need to create a profile for this site which is easy to use. Entries close 8pm the night before an event (or 10am on the day for our wednesday afternoon twilight series). For handicap races you will need to enter by thursday night.
---
Types of Events
We hold 'club' and occasionally 'open' races on almost every weekend. 'Open' races are higher level events organised by either Hamilton Wheelers or other cycling clubs. The races you can enter at these meetings are strictly in accordance with your racing licence (either an under 30 years Elite or an over 30 years Master) - see Racing Licences Explained.

Riders new to racing should start out at Club level events and gain experience before entering 'Open' events competing against riders from all over Queensland or interstate.

Criteriums - these are generally races around shorter circuits between 800m and 2.5km. The races are for a set time (between 40 and 60 min), plus 2 or 3 laps. Criteriums usually feature prizemoney for 1st, 2nd and 3rd, and also for a 'prime' (pronounced 'preem'), an intermediate sprint held sometime during the race.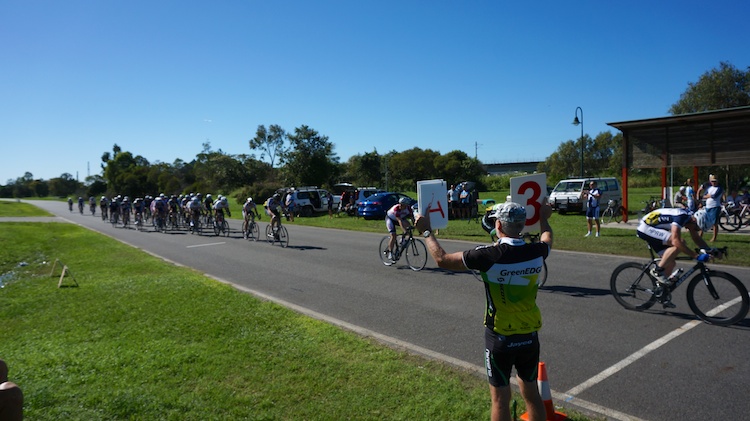 One our our A Grade 'points' race style criteriums at Nundah. There is a sprint every lap for points.

Click on the Calendar link in the menu and you can see all our events.
---
The Bicycle
Any standard racing bike is OK. The handlebars need to be standard 'drop' bars. 'Tri-Bars' are not allowed in normal criterium/road races, but are OK for time trials. The ends of the handlebars must be plugged to prevent injury during a collision. The latest, most expensive bikes are not essential! Remember, it's the strength in your legs and your mental attitude that has the greatest bearing.

Naturally the lighter the bike the better. But there are many other factors such as stiffness and correct size/riding position. Aluminum frames are light and stiff (good power transfer to the wheels but poor ride), steel frames are reasonably stiff, give a good ride but are heavier. Carbon fibre frames give a good ride, but may not be really light or stiff. Of course quality is a factor and a very good steel bike will race better than one with a cheap and nasty aluminum frame. The quality of bike components (group-sets) are not a critical factor in winning races. However, higher quality components are more reliable and slightly lighter.

Probably the most important part of a racing bike for Hamilton Wheelers events, are the wheels and tyres. For time trial events where drafting is not allowed, the aerodynamics of the wheels are important. In road races and criteriums, riders who plan to spend much of a race 'out the front' or in a breakaway from the bunch, might be better off with aero wheels. Unfortunately, these wheels are heavier than standard rim wheels.

For sprinting and quickly climbing hills, you are much better off reducing the rotating mass on your bicycle, by using standard depth, lighter weight rims. If much of your race is 'sitting on other riders wheels', the need for aerodynamic wheels is not such an issue. Most riders reach a compromise with shallow depth aero rims that are reasonably light, but still slightly aerodynamic. For time trials or distance training where quick acceleration is not a factor, the heavier deep section aero rims are better.

Light weight tyres and tubes also reduce the rotating mass. Look for tyres with higher flexibility in the sidewalls (high TPI) as they produce a slightly lower rolling resistance. Kevlar beads in tyres are preferred over of steel wire to reduce weight (and rotating mass).

The 'lower rotating mass' issue is also a factor with your crank arms as they also are rotating and affect acceleration. Obviously lighter cranks/pedals and shoes are recommended.

---
Open Events
In 'Open' events, you are required to race in the grade allocated to you by Cycling Queensland. Before entering your first 'open' event you must apply for an open grading with Cycling Queensland. Complete this Grading Application Form and then get it signed by the club handicapper before submitting it to Cycling Queensland at least 2 weeks prior to entering. The online entry system should only allow riders to enter an open event in their correct grade.

Please note that in open events, riders must wear official club jerseys/ knicks. Approved Hamilton Wheelers jerseys and knicks are available from the club. Should you wish to wear a 'sponsored' kit during an open event, this must be first approved by the club and fees paid to both CQ and to Hamilton Wheelers by completing this Sponsored Uniform Registration Form.
---
Know Your Strengths
Hamilton Wheelers have different races that suit different riders. Criterium racing is very much a battle of tactics (drafting, breaking away, sprinting) while time trials are simple tests of endurance and strength. Novice riders quickly learn of the benefits of 'drafting' behind other riders. The reduced wind resistance can save up to 30% of your energy compared to cutting straight into the wind.
Athletes generally have either a slightly higher proportion of 'slow twitch' or 'fast twitch' muscle fibres. Those with a higher proportion of slow twitch muscles generally have a higher aerobic capacity (we'll call them 'stayers'). They can convert carbohydrates and oxygen into energy at a continually high, steady rate. These types of riders do well in time trials and road races/criteriums where they can 'grind away' into the wind, sometimes breaking away from the bunch and they generally try to 'break the heart' of less powerful, fast twitch muscle riders.

On the other hand, fast twitch muscle riders may have a lower aerobic capacity but higher anaerobic capacity. Anaerobic activity is expending energy at your maximum rate for 10 to 20 seconds. During this period, muscles are not using oxygen - instead, stored chemicals in the muscles are converted into energy. People with higher ratio of fast twitch muscle fibres are better at sprinting - they can ride faster over a shorter distance, but fade quickly and need time to recover. If 'sprinters' can use their sudden burst in a bunch finish, they will almost always beat slow twitch muscle riders.

Obviously training can boost any rider's overall strength, especially their aerobic capacity. In fact one rider's aerobic capacity can produce a greater short term output than another (weaker) rider's anaerobic output.

Short anaerobic sprints while training, will improve a rider's speed ability for fast finishes. However, the gain will always be related to the person's percentage of fast twitch muscle fibres.
Riders who have a high aerobic capacity (slow twitch muscles) and also a high power to weight ratio, are better at climbing longer hills. Such skills can come in handy at some of our road race locations. While not in the category of the French Alps, a couple of the climbs in the Pine Dam and Somerset Dam circuits are reasonably long. Practice hill climbing and you'll get better at it. There are a few places worth considering, such as Mt Mee and Mt Coot-tha. Mt Coot-tha has a 2.34km section on Sir Samuel Griffith Drive from the Simpson Falls turnoff to the top of the mountain near Channel 10. There are white painted lines at the start and finish. Keep accurate times over the section to check that your training is working. As a general guide, 'A' grade riders will complete it in 7-9 minutes, 'B' grade in 8-10 minutes, 'C' grade in 10-13 minutes and 'D' grade over 13 minutes.

---
Race tactics
The following are basic hints for beginners to become competitive racers. Once you know your strengths (and weaknesses) you can start thinking about tactics before and during a race. Knowing the strengths of your competitors comes with experience.

Obviously, if you're a sprinter, you'll do everything in a race to try to ensure a 'bunch' finish and spend the least possible amount of time 'out in the wind', to conserve energy. Stayers can weaken sprinters by trying to break away and forcing them to use up all their anaerobic strength just to keep up. Longer hills are the best places to try these moves.
Of course it's not that hard to break away from a bunch if you really want to. But if you end up by yourself, it can be very difficult to maintain the same pace as the bunch behind you. However 3 or 4 riders who work together by sharing the lead may be able to achieve this, especially if there is a large number of sprinters in the following bunch (none of them may want to sprint to catch up). During a breakaway or a chase, riders won't be too happy about someone sitting at the back of the bunch and not doing a turn at the front. The bottom line however, is that everyone is entitled to 'ride their own race'.

There are also some great tips on Wade Wallace's site Cycling Tips
On-board Cameras
To use a camera at Hamilton Wheelers run events you must present the bike to the Chief Commissaire BEFORE the race, to gain their approval. The camera must be fixed securely on the bike, not on a helmet or your body.
Please remember that any footage must be made available to Aus Cycling within 48hrs if requested and that no material that may bring the sport into disrepute can be released to the public. Please note that any breaches of the CA policy may be subject to penalties and disqualification.
---
Weekly emails
Each Tuesday we produce a small e-mail to remind members of the next weekend's racing and training events. The service is open to anyone and you may elect to be removed from the mailing list at anytime. Your e-mail address will not be made public.