Twilight Series 2017-2018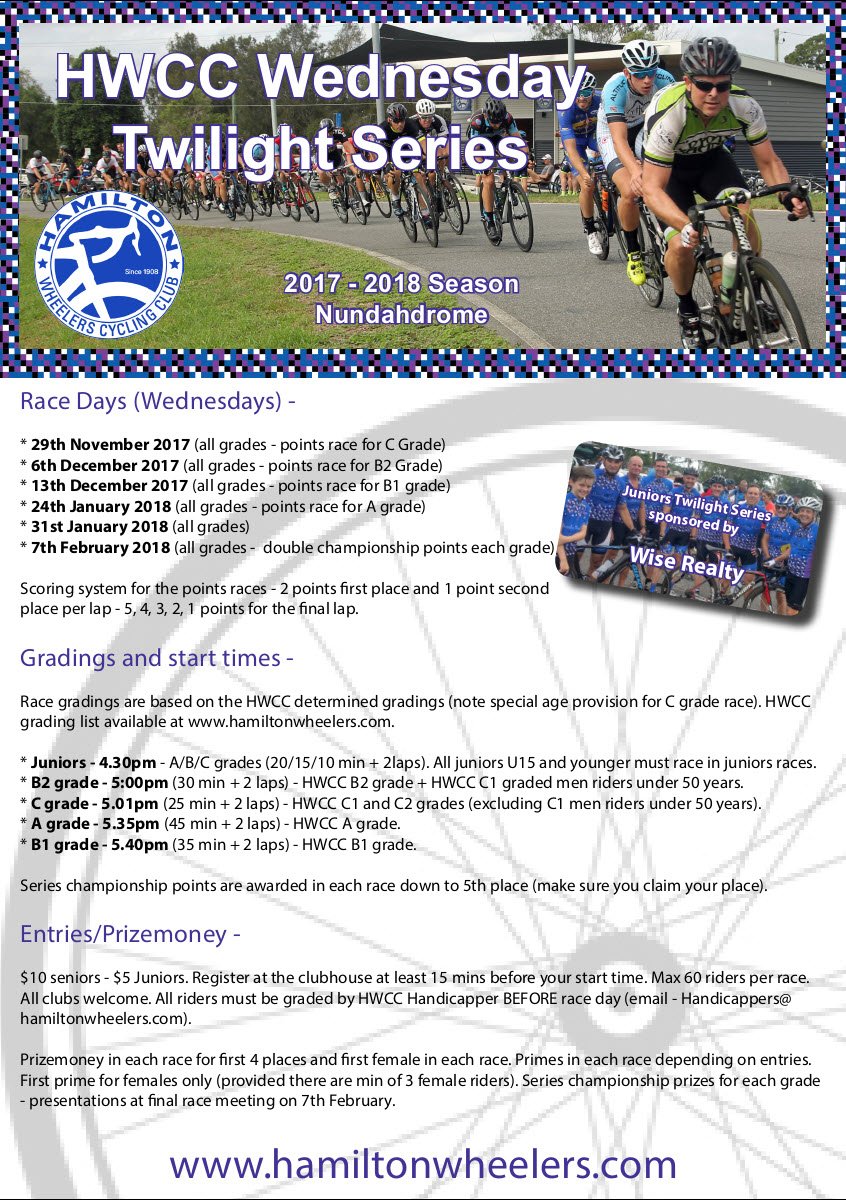 Gradings, visitors and start times -
Visitor riders from other clubs are welcome. As twilight series is very competitive and we have large fields, they are not suitable for 3 day licence riders or people new to racing. Our weekend club racing is more suitable for riders who are not yet experienced.

For this series, your normal Hamilton Wheelers grading applies, except for C grade and Juniors. So if you are graded A,B1 or B2 that's where you ride. There is not enough light to run C1,C2 & D grade races, only a combined C grade. To even up the imbalance, C1 grade male riders must be 50 years old or over. All Male C1 grade riders under 50 must ride B2 grade. Male C2 grade riders will compete in C grade regardless of age. Female riders C1,C2 or D will ride C Grade.

Any rider not previously graded must complete a grading application form before race day. No new gradings or changes to grading will be done on race day. For all grading inquiries, please submit a grading application form to the handicapper.

If you want to check your grading a full list is here (ensure you note the report is in two columns) :





For Grading Lists and the Grading Application Form Click HERE


Series Points after Round 5 (Double Points for the final round)
Rider Limits and Registration
Riders are reminded that registration closed 15 minutes before the race, and as races sometimes reach the safety limit of 60 riders per field it's wise to get their early as you may miss out.

* Juniors - 4.30pm - A/B/C Grades (20/15/10 min + 2 laps). All juniors U15 (2017 age division) and younger must race in junior races. Juniors must complete rollout check before registering

* B2 grade -

5:00pm

(30 min + 2 laps) HWCC B2 grade + HWCC C1 Graded male riders under 50 years old


* C grade -

5.01pm

(25 min + 2 laps) - for riders graded C1,C2 or D however C1 grade Male riders must be 50 years or older. C1 Male riders under 50 must ride B2 grade
* A grade -

5.35pm

(45 min + 2 laps)


* B1 grade -

5.40pm

(35 min + 2 laps)





For the points races, the scoring system is: 2 points first and 1 point second for each lap: 5, 4, 3, 2, 1 points for final lap.



Entries, prizes -

$10 seniors - $5 Juniors. Max 60 riders per race.
Prizemoney in each race for first 4 places, primes and first female. There will be an extra prime for females only in each race, provided there are a minimum of 3 female riders.

Series Winners - Points are awarded for the top five finishers in each race (5,4,3,2 & 1 points) - Make sure you claim your place! The final round is worth double points.
Juniors Sponsor

- Many thanks to

Wise Realty

for again sponsoring the Junior racing in the Twilight Series. Trophy and medals will be awarded at the final round for the series winners.



Wet Weather Policy - Summer time often means afternoon storms. Our Policy is that a call to cancel or modify the race schedule will only be made at the track by the chief commissaire. Should there be a cancellation this will be issued on front page of this website, facebook and twitter at approx 4:30pm.

Cameras - please note the club policy does not permit the use of cameras (e.g. gopros) during races. Please remove them before starting or you may be removed from the race.