Results
Hamilton/Uni/Sunny Coast Interclub Round 1 Results
HWCC/Uni/Sunshine Coast Interclub Series Report

Round 1 - Nundah Saturday 8th July

Well done to all our HWCC riders who competed against the Uni and Sunshine Coast clubs on Saturday. Our Team Captains idea worked well, with all our teams being well disciplined with team tactics that worked generally pretty good.
A grade men's race was a torrid affair as was expected. Lots of attacks and chase downs. Uni had a good break at one stage, but our boys pulled them back. In the final sprint there were an awful lot of Uni riders! However our A Grade Captain Michael Bettany (Pickles) pulled clear for a great win. Uni and Sunshine coast picked up the minors. Uni 7 points, HWCC 7 points, Sunshine Coast 2 points.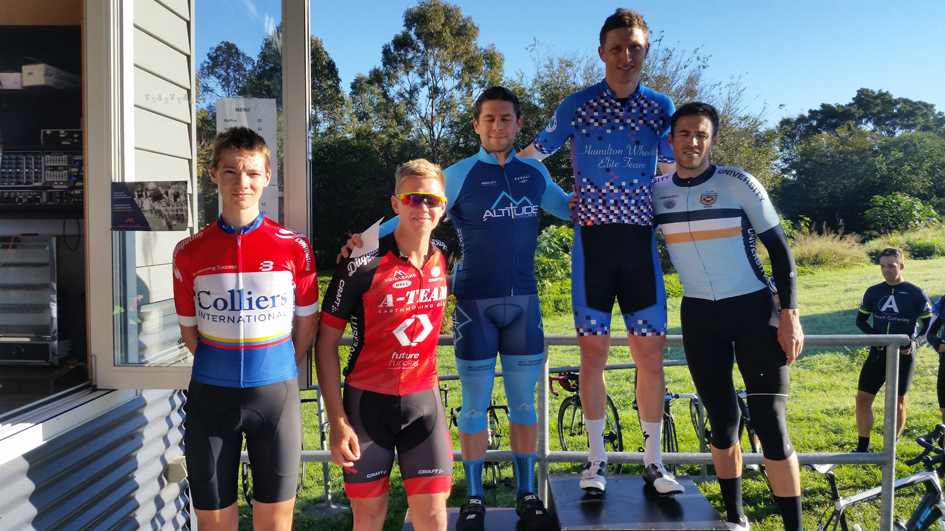 A Grade Men

The C grade boys got off to a flying start. A couple of Sunshine Coast riders tried to get away from the start, but we wheeled them back in. Our attacks were strong - good efforts from Jason Churchward and Mick Cole, who knocked around some of the Uni riders. Our team tactics worked a treat with our 2 dedicated sprinters Mark Whitelaw winning the prime and Romain Lovisco taking the win. Unfortunately Mark was involved in a crash in the final sprint and suffered a suspected broken collar-bone - hope you recover quickly Mark. Uni 7 points, HWCC 7 points, Sunshine Coast 2 points.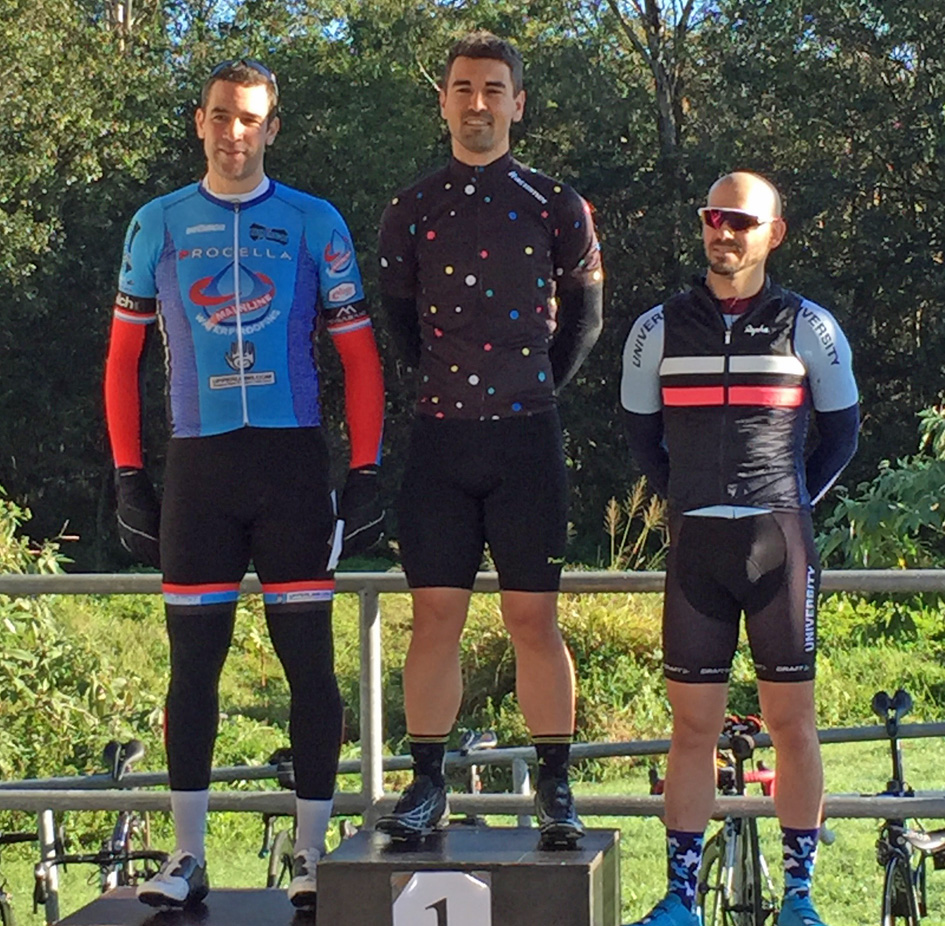 C Grade Men

Ladies races were divided into combined A, B and C grades and a D grade race. This made it pretty tough for our B and C grade riders, but our Ladies Captain Trish Sutton-Davies and Kris Kersley performed very well. In the end it was a fantastic effort by our Ashleigh Elliot to take out a fine win and the prime against 5 powerful Uni riders - a real classy effort against a strong team. Uni 11 points, HWCC 7 points.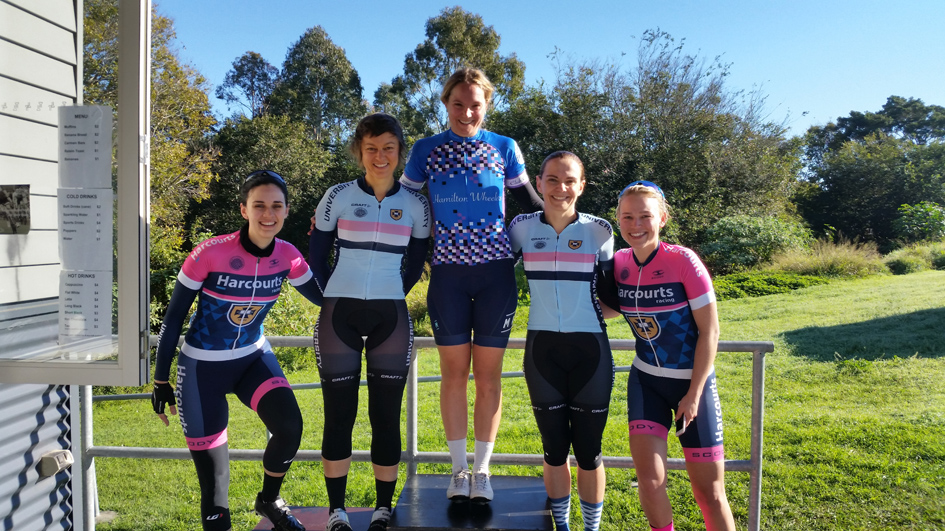 Ladies A/B/C

Our D grade ladies took out the minor placings, with Andrea Alexander coming second in the prime and finish. Well done to Suz Davis for 3rd place, Kath McLennan 4th (her first ever race!) and Jenni Eason picking up one point for the club coming in 5th. Uni 7 points, HWCC 11 points.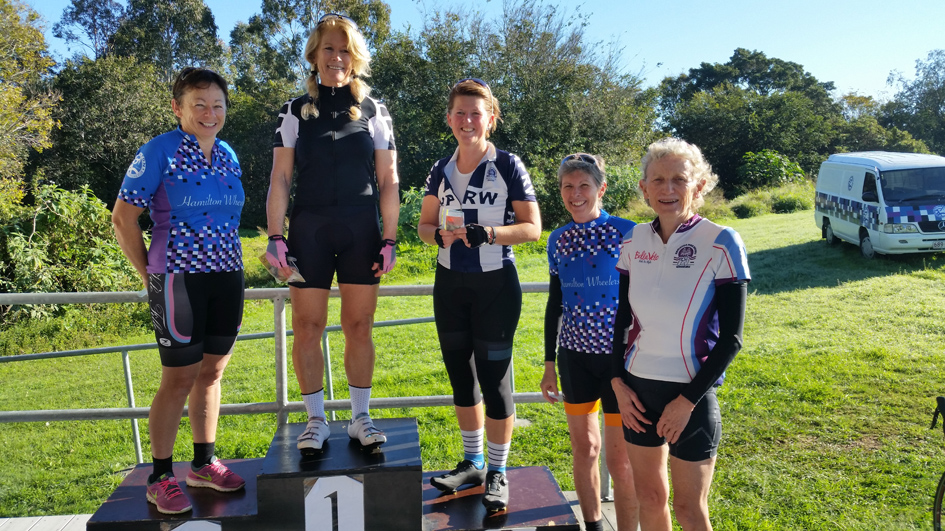 D Ladies

We should all be very proud of our HWCC B grade men. Uni always present a very strong field in B grade interclub races. There were attacks on almost every lap, with plenty of our riders showing lots of courage. Special efforts by Paul Willet (B grade captain) and Lachlan Sinclair for their attacks and chase-downs. A couple of riders were no shows, so many thanks to Mick Cole, Jason Churchward and Matt Smart for stepping up and racing even though they had already raced in previous events. Well done to Mick DeZwart for his fine 2nd place in the prime and Jack Lansberg for his great sprint for 2nd at the end. Uni 12 points, HWCC 5 points, Sunshine Coast 1 point.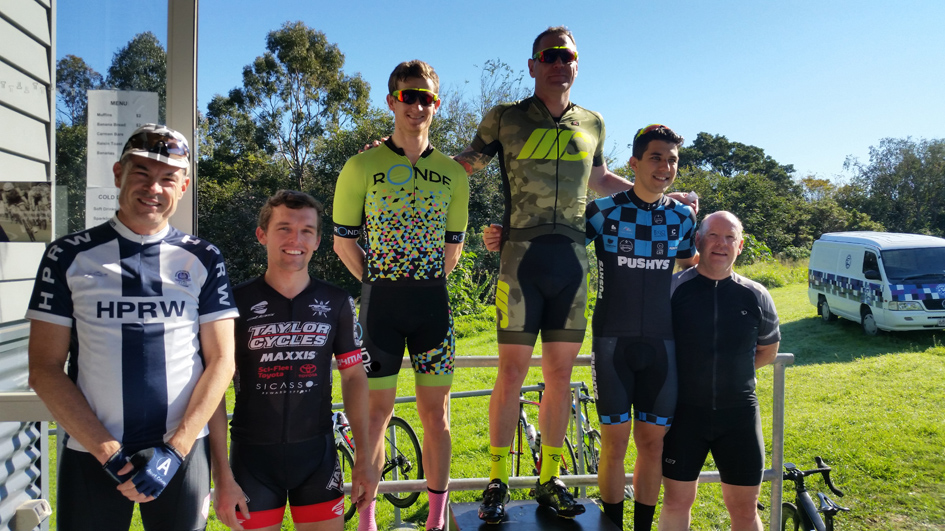 The D grade men had a small field but our team was ably captained by Hugh Fyson. Well done to Anthony Pettit for his 2nd placings in the prime and finish. Chris Delabbio and Geoff Prendergast also picked up points for HWCC in the minors.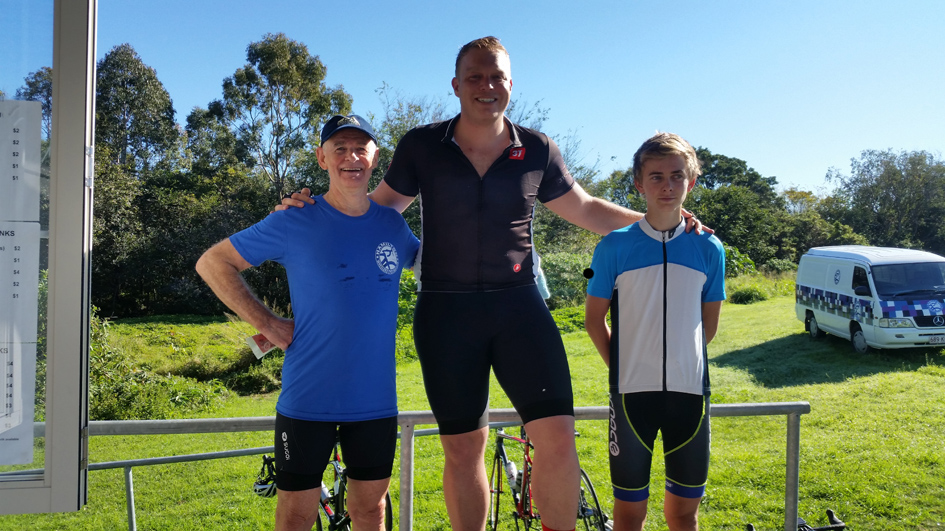 The next Interclub Race is at Lakeside on Saturday 29th July. Detail and entry nominations - CLICK HERE.

Kim Flesser - HWCC Club Captain

Points Score after Round 1
Club

Round 1

Total

Men A
Men B
Men C
Men D
Women A/B/C
Women D
HWCC
5
5
7
9
7
11
44
UQCC
11
12
8
9
11
7
58
SCCC
2
1
3
0
0
0
6
Results Round 1
Date
08-Jul-17
Location
Albert Bishop Park (Nundah)
A Grade - Men
Pos
Name
Club
Points
1
Michael Bettany
HWCC
5
2
Mark Render
UQCC
4
3
Michael Owen
UQCC
3
4
Mark Szylkarski
UQCC
2
5
Michael Ryan
SCCC
1
Prime
Name
Club
Points
1
Mark Richardson
UQCC
2
2
Jonathon Curry
SCCC
1
A Grade Men - Points
Club
Points
HWCC
5
UQCC
11
SCCC
2
B Grade - Men
Pos
Name
Club
Points
1
Shannon Duggan
UQCC
5
2
Jack Landsberg
HWCC
4
3
Nelson Andrado
UQCC
3
4
Kyle Godson
UQCC
2
5
Gary Morgan
SCCC
1
Prime
Name
Club
Points
1
Shannon Duggan
UQCC
2
2
Michael DeZwart
HWCC
1
B Grade Men - Points
Club
Points
HWCC
5
UQCC
12
SCCC
1
C Grade - Men
Pos
Name
Club
Points
1
Roman Lavisko
HWCC
5
2
Giovanni Rizzo
UQCC
4
3
Luke Bona
UQCC
3
4
Richard O'Connell
SCCC
2
5
Brendan Cooper
SCCC
1
Prime
Name
Club
Points
1
Mark Whitelaw
HWCC
2
2
Luke Bona
UQCC
1
C Grade Men - Points
Club
Points
HWCC
7
UQCC
8
SCCC
3
D Grade - Men
Pos
Name
Club
Points
1
Andrew Dodd
UQCC
5
2
Anthony Petit
HWCC
4
3
Chris Delabbio
HWCC
3
4
John Whip
UQCC
2
5
Geoff Pendergaast
HWCC
1
Prime
Name
Club
Points
1
Andrew Dodd
UQCC
2
2
Anthony Petit
HWCC
1
D Grade Men - Points
Club
Points
HWCC
9
UQCC
9
SCCC
0
A/B/C Grade - Women
Pos
Name
Club
Points
1
Ashleigh Elliot
HWCC
5
2
Sarah Neumann
UQCC
4
3
Natalie Langer
UQCC
3
4
Maddison Taylor
UQCC
2
5
Sheridan Braatvedt
UQCC
1
Prime
Name
Club
Points
1
Ashleigh Elliot
HWCC
2
2
Sarah Neumann
UQCC
1
A/B/C Grade Women - Points
Club
Points
HWCC
7
UQCC
11
SCCC
0
D Grade - Women
Pos
Name
Club
Points
1
Karen
UQCC
5
2
Andrea
HWCC
4
3
Suzette
HWCC
3
4
Katherine
HWCC
2
5
Jenny
HWCC
1
Prime
Name
Club
Points
1
Karen
UQCC
2
2
Andrea
HWCC
1
D Grade Women - Points
Club
Points
HWCC
11
UQCC
7
SCCC
0