Results
2019 Battle of the Aarses Results and Report

Message from Club President Wayne Wilson:
What a great day the Battle of the Aarses was!!

Some 180 riders from both clubs competing, in good friendly rivalry, across 5 grades.

Congratulations to all riders and volunteers who made the day a really enjoyable one and in particular… wearing a club kit set the day off and made recognizing team mates in the bunch soooo much easier. We are on a winner with this move..

Report from Club Captain Mick Cole:


Well, it was another perfect SE Queensland morning for racing and it was great to see so many riders from Uni and Hamilton turn out to support the event.

Firstly, I want to thank the Uni riders, officials, volunteers and club executives for the various roles that you all played in pulling this event together and for the fast and competitive racing. On this occasion, you had our measure, but we'll regroup and come out swinging again next time.

Secondly, to the Hamilton club members, thank you for coming out in such numbers to support the club and the event. I know I've said this to many of you already, but it's these types of events that remind me why I love this club.

Lastly, thanks to all those who worked tirelessly in the background to organize this event. For many of us, the hardest part of the morning was finding a club jersey to borrow, but a small group of dedicated Uni and Hamilton members have worked behind the scenes, dealing with nominations, handicaps, and organizing volunteers, Commissaires, First Aid (thanks A1 First Aid), Coffee (Thank you Skye), and the BBQ (thanks Willow and BBQ Bob!).

Thanks again to all involved and I look forward to adding a HWCC shield to that trophy in 2020.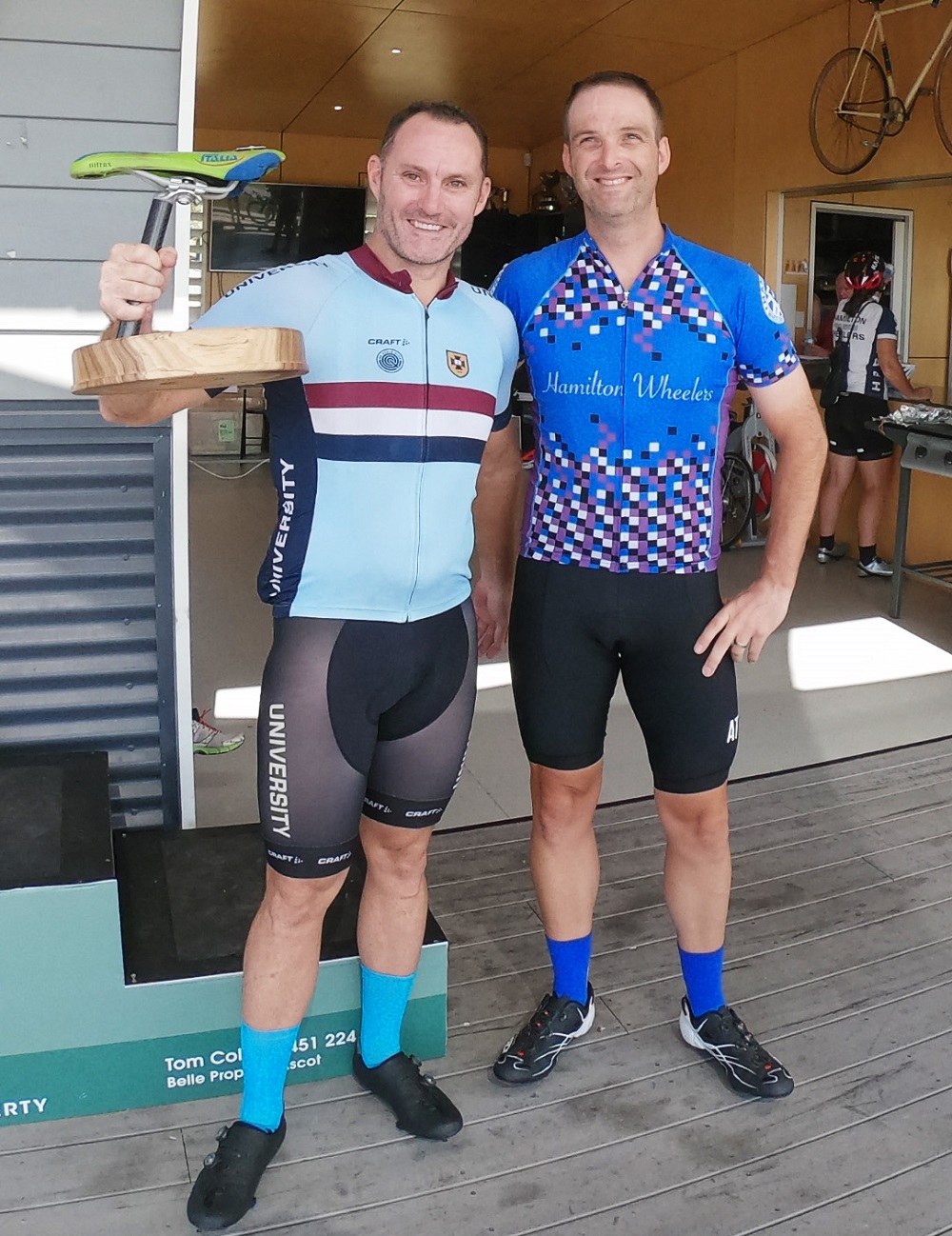 Results

UniCC 315 Vs HWCC 240

A Grade
1st: HWCC 40 Michael Bettany
2nd:HWCC 30 Dean Cane
3rd: UQCC 15 Mark Richardson
4th: HWCC 5 Dan Van Driel
Prime: UQCC 10 Mark Richardson

B1 Grade
1st: UQCC 40 Paul MItchell
2nd: UQCC 30 Steve Miles
3rd: UQCC 15 Kristopher McMurdy
4th: UQCC 5 Jason Porter
1st Lady: UQCC 10 Dyane Hannan
Prime: UQCC 10 Steve Miles

B2 Grade
1st: HWCC 40 Jack Hawkins
2nd: UQCC 30 Sjoerd van Oort
3rd: UQCC 15 Emily Fowler
4th: HWCC 5 Ben Tye
1st Unplaced Lady: UQCC 10 Jonnamei Colnot
2nd Unplaced Lady: UQCC 5 Bridget Mallory
Prime: HWCC 10 Jack Hawkins

C Grade
1st: UQCC 40 Mark Davie
2nd: UQCC 30 David Whyte
3rd: UQCC 15 Scott Robinson
4th: HWCC 5 Dylan Cope
1st Lady: HWCC 10 Brook Poynter
2nd Lady: HWCC 5 Kris Kersley
Prime: UQCC 10 Mark Davie

D Grade
1st: HWCC 40 Mark Hind
2nd: HWCC 30 Harvey McIntosh
3rd: UQCC 15 StJohn Herbert
4th: HWCC 5 Sue Jones
1st Unplaced Lady: HWCC 10 Trish Sutton-Davies
2nd Unplaced Lady: HWCC 5 Carolyn Lister
Prime: UQCC 10 St John Herbert