Results
Here is a complete list of results
 There was a great turnout today for the start of the winter season. A brief shower dampened
proceedings but the road was dry for the start. A nice tailwind helped on the way out,
but the way back was tough with the headwind, hills and that dead dayboro road!
There were some great rides today including Jordan Kerby (46:03) and Mitch Mulhern (46:34) setting
seriously fast times in A grade. Jordan and Mitch are obviously chronomen riding together at the
recent track nationals to score gold.Master's strongman Andy Patten took out 3rd place with
ex-HPRW member and bikebuilder Ben Fleming 4th and Alec Manderson taking 5th. It was Alec's first
ride after a close encounter of the bonnet kind 4 weeks ago.

In B grade it was Ian Collins setting the benchmark time, with John Madigan not far behind.David Wadsworth
also set a good time just back after a 2 1/2 year break.

C Grade it was Tony Bolter and daylight...the man is a machine! Kim Flesser was heard to say he had it in the
bag if not for a flat tyre...

D grade and the 'two ronnies' Ron Brown and Ron Young were at it again setting very fast times.

Now everyone likes a bit of bike 'bling' and there is nothing like a time trial to bring out all the flash
gear so here are a few bikes spied at the Closeburn TT.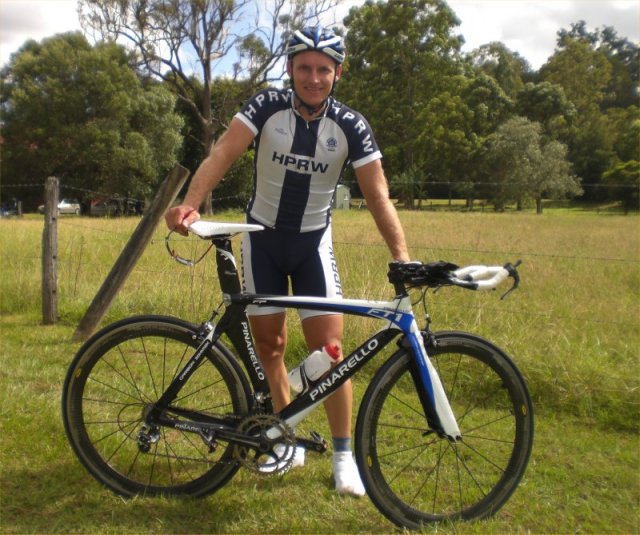 Andy Patten and his Pinarello FT1. Andy says this is a bit of a 'bitsa' with parts he obtained
cheaply, including campy record running gear. Pictured is the bike in 'ride home' mode, in TT
mode it was running a Zipp Disk and Lightweight front wheel!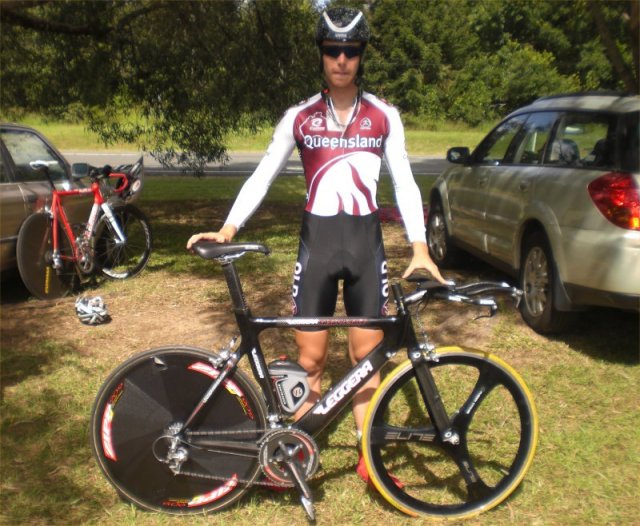 Here is Mitch Mulhern's Leggera which he used to good effect to smash out a time of 46:33.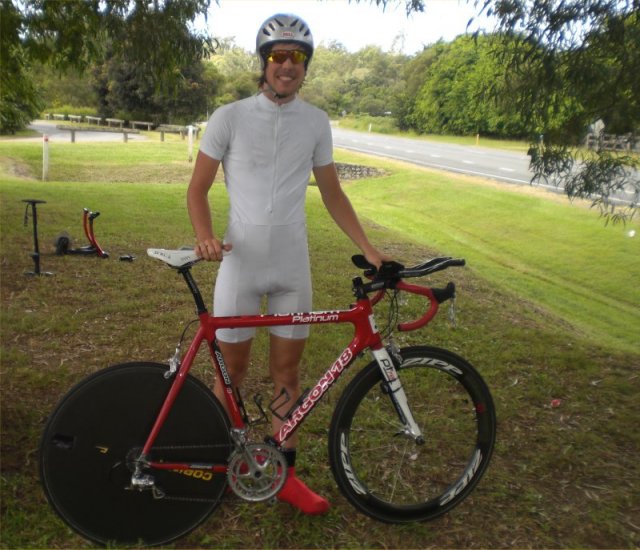 Stuart Mulhern rode his Argon18 with Corima Disk and Zipp front wheel.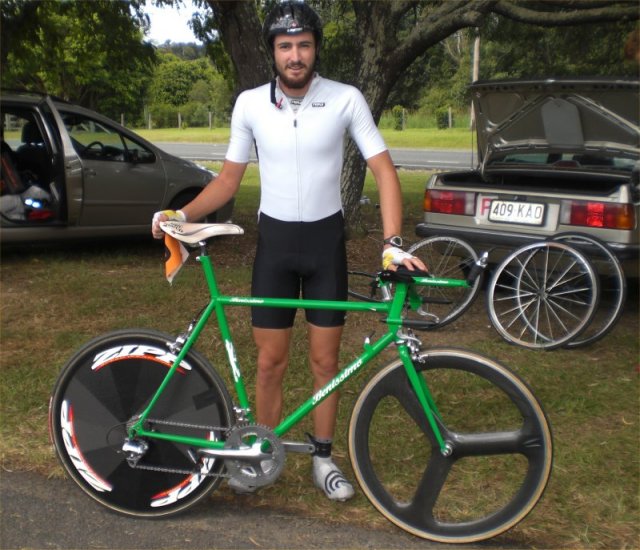 Here is Ben Fleming with his 'Benissimo' steel frame TT rig that he built
himself. I think this bike drew the most attention on the day. A very pretty bike!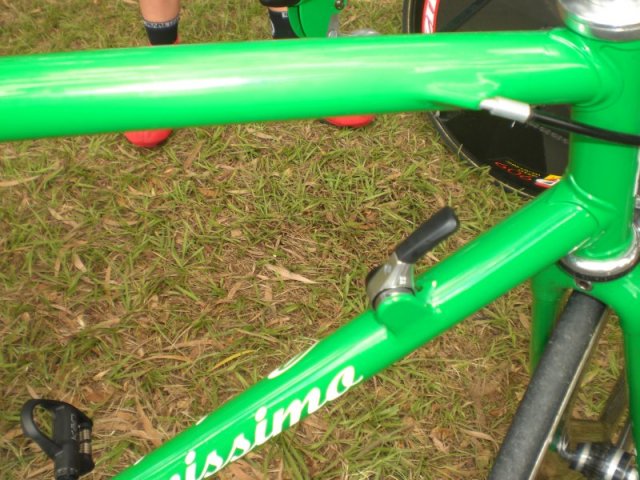 Tidy looking front shifter....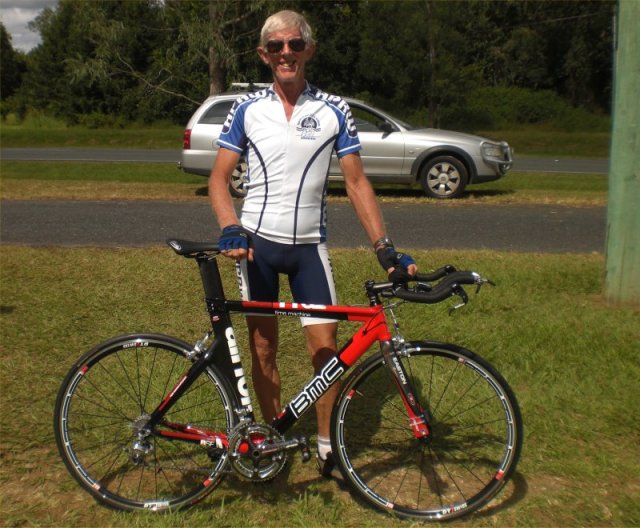 Tony Bolter had a brand new BMC Time Machine to decimate C grade with a 55:14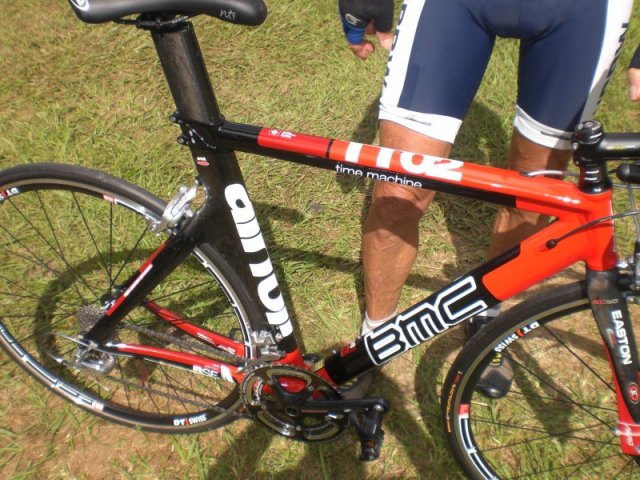 Closeup of Tony's BMC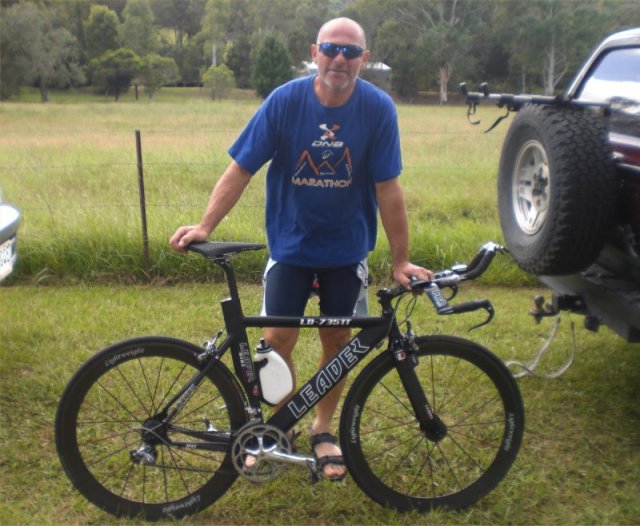 Ian Collin's brought this very aero looking Leader, running Lightweight wheels and Pro components.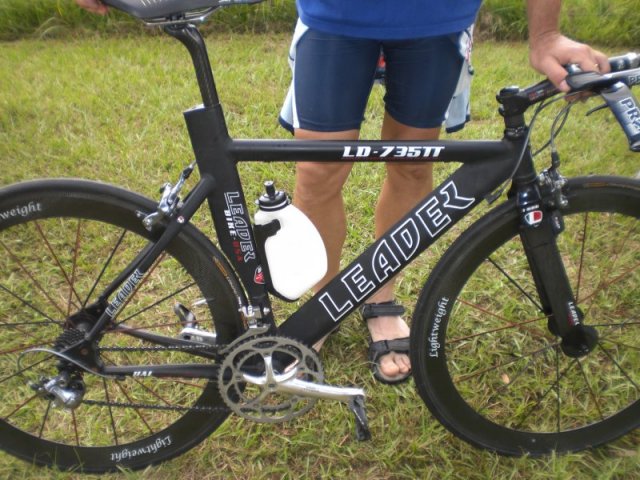 Closeup of Ian's Leader...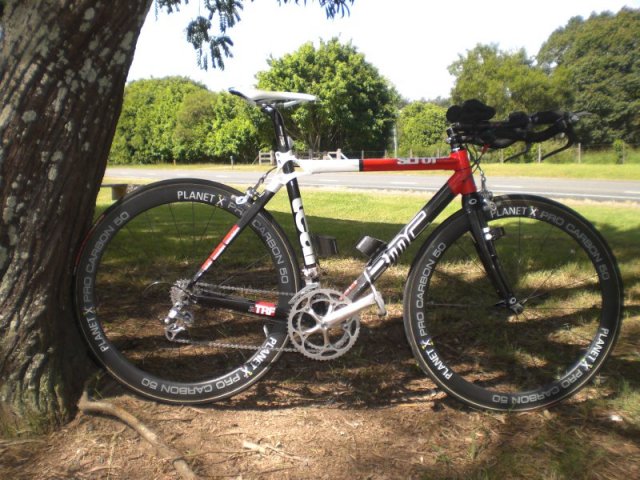 Adam Harrison's BMC Team Machine, Planet X wheels, Profile Bars. Thanks to Suz for the
loan of her road frame :)